Figures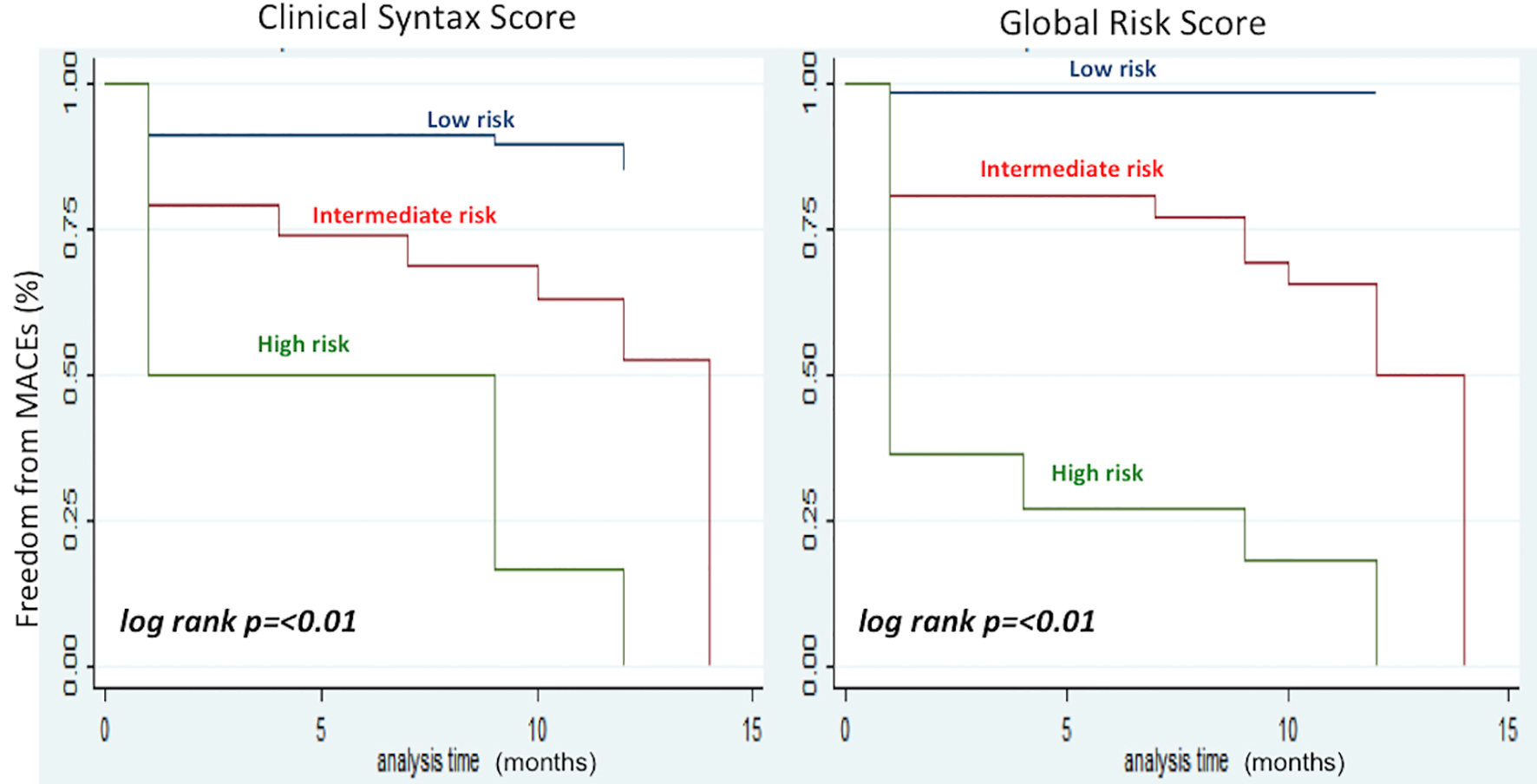 Figure 1. Kaplan-Meier analysis showing the occurrence of MACE at 1 year in patients using the clinical SYNTAX score (left) and the global risk score (right). The occurrence of adverse events was stratified accordingly to low, intermediate and high risk group per scoring system respectively. Differences between groups were compared using log rank test. Analysis time in months.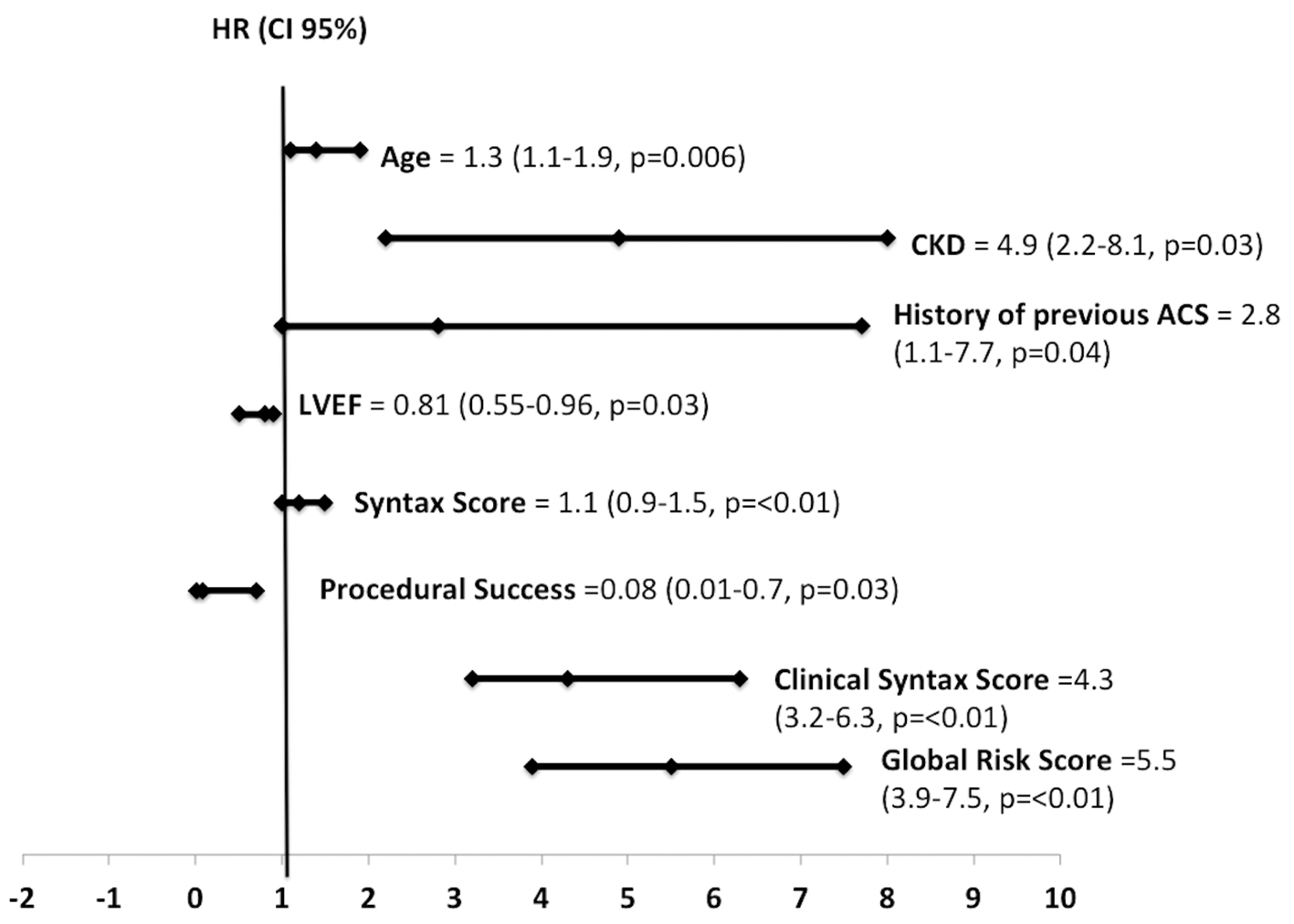 Figure 2. Hazard ratio (HR) plot of statistically significant variables on multivariable Cox proportional analysis. LVEF: left ventricular ejection fraction; ACS: acute coronary syndrome.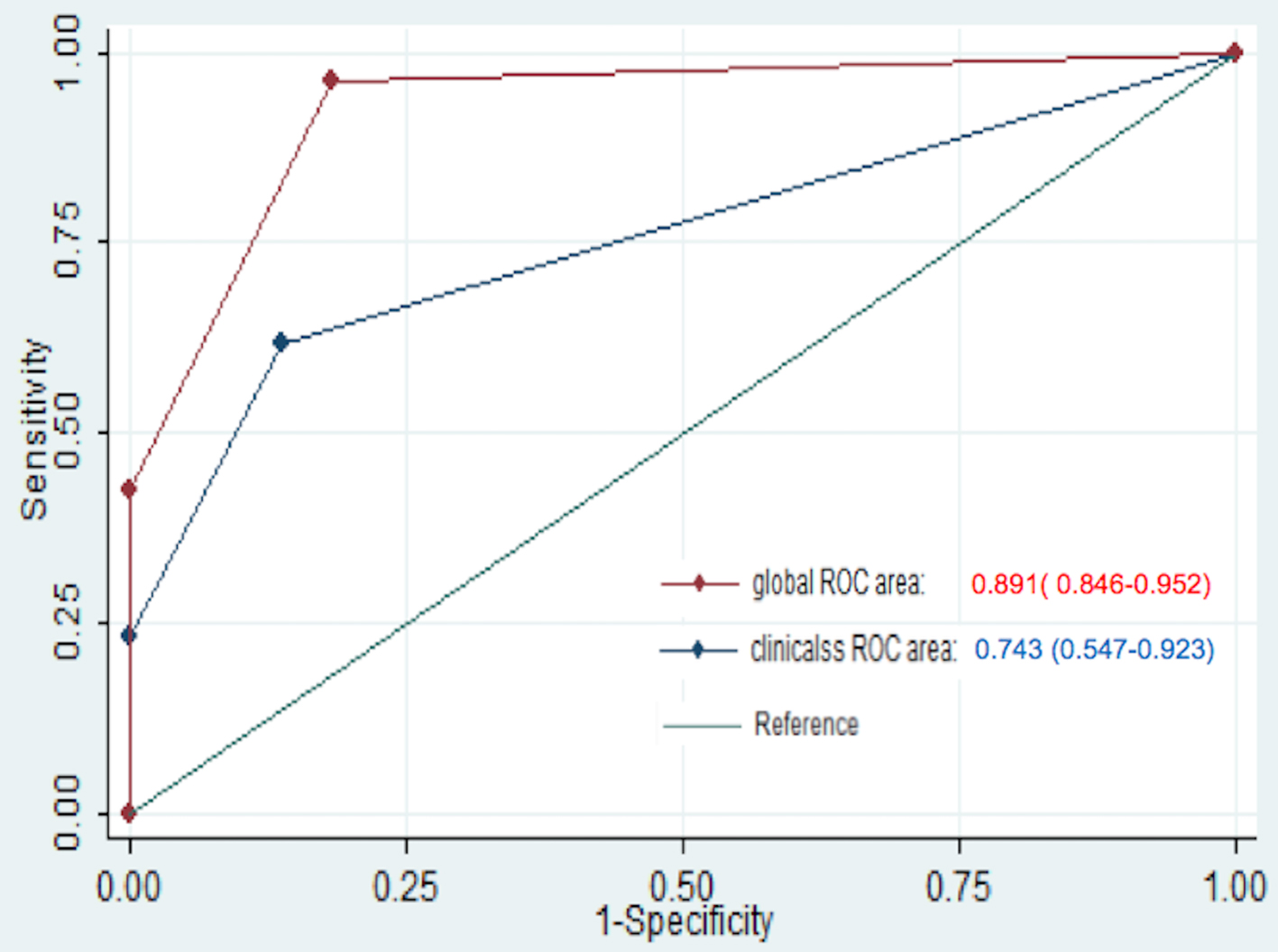 Figure 3. Comparison of area under the curve in predicting major adverse cardiovascular events (MACEs).
Tables
Table 1. Baseline Clinical, Angiographic and Procedural Characteristics


| Characteristic (n = 92) | Total, n (%) or ± SD |
| --- | --- |
| Age | 62 ± 12.1 |
| Sex (male) | 67 (72) |
| Hypertension | 79 (85) |
| Diabetes | 35 (38) |
| Cerebrovascular disease | 7 (7.6) |
| Chronic kidney disease | 5 (5.4) |
| Smoking | 43 (46) |
| Dyslipidemia | 40 (43) |
| Hx of previous ACS | 22 (23.9) |
| Hx of previous PCI | 5 (5.4) |
| Stable angina | 27 (30.3) |
| Unstable angina/NSTEMI | 32 (35.9) |
| STEMI | 30 ( 33.7) |
| Heart failure | 11 (11.9) |
| LVEF | 55.8 ± 10.9 |
| SYNTAX score | 21.8 ± 12.2 |
| EuroSCORE | 2.7 ± 2.3 |
| Clinical SYNTAX score | 23.9 ± 18.5 |
| Bifurcation lesion | 39 (42) |
| Ostial | 36 (39) |
| Thrombus | 10 (10.8) |
| Number of lesions | 1.9 ± 0.9 |
| Lesions treated | 1.4 ± 0.7 |
| Number of stents implanted | 1.96 ± 1.2 |
| Mean stent length in left main | 23.7 ± 8.1 |
| Mean stent diameter | 3.1 ± 0.7 |
| Left main only | 36 (39) |
| Left main plus one vessel | 26 (28) |
| Left main plus two vessels | 24 (26) |
| Three vessel with left main involvement | 6 (6.5) |
| Complete revascularization | 27 (29) |
| Procedural success | 87 (94) |
Table 2. Major Adverse Cardiovascular Events at 1 Year (MACE)


| Event (N = 92) | n (%) |
| --- | --- |
| Total MACEs | 26 ( 28.2) |
| All-cause mortality | 10 (10.8) |
| Cardiovascular mortality | 7 (7.6) |
| In-hospital death | 5 (5.56) |
| MI | 13 (13) |
| Coronary artery revascularization (CABG) | 1 (4.5) |
| Stent thrombosis | 2 (2.1) |
| Target vessel revascularization | 4 (4.35) |
| Stroke | 3 (3) |
Table 3. Distribution of MACE Based on Risk Stratification


| Scoring system | With MACE, N = 26 (%) | Without MACE, N = 66 (%) | Total, N = 92 |
| --- | --- | --- | --- |
| CSS low | 10 (38.4) | 57 (86) | 67 (72.8) |
| CSS mid | 10 (38.4) | 9 (13.6) | 19 (20.6) |
| CSS high | 6 (23) | 0 (0) | 6 (6.5) |
| GRS low | 1 (3.85) | 54 (81.8) | 55 (59.7) |
| GRS mid | 12 (53.8) | 12 (18.1) | 26 (28.2) |
| GRS high | 11 (42.3) | 0 (0) | 11 (11.9) |