Figures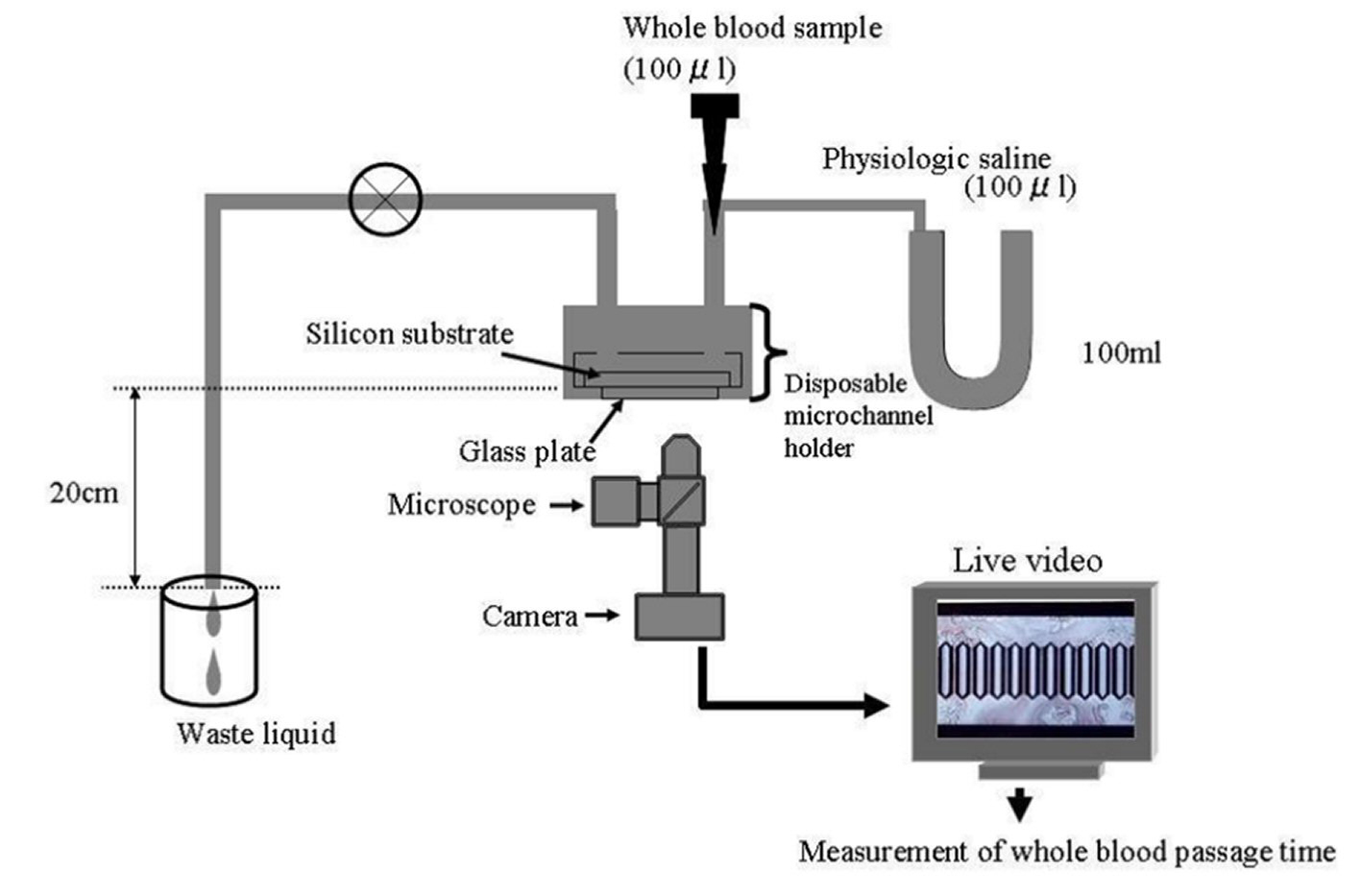 Figure 1. System of microchannel array flow analyzer. The microchannel passage time of 100 µL of physiologic saline was measured as a control, and then that of venous whole blood obtained from the subjects with 5% heparinization was determined. The whole blood passage time of the subjects was expressed after correction for the passage time of physiologic saline. Inter- and intra-assay coefficients of variation for whole blood passage time were 8% and 5%, respectively.
Figure 2. Relationship between hs-cTnT and WBPT. There is significantly positive correlations between log-hs-cTnT and WBPT (r = 0.40, P < 0.001). hs-cTnT: high sensitivity cardiac troponin T; WBPT: whole blood passage time.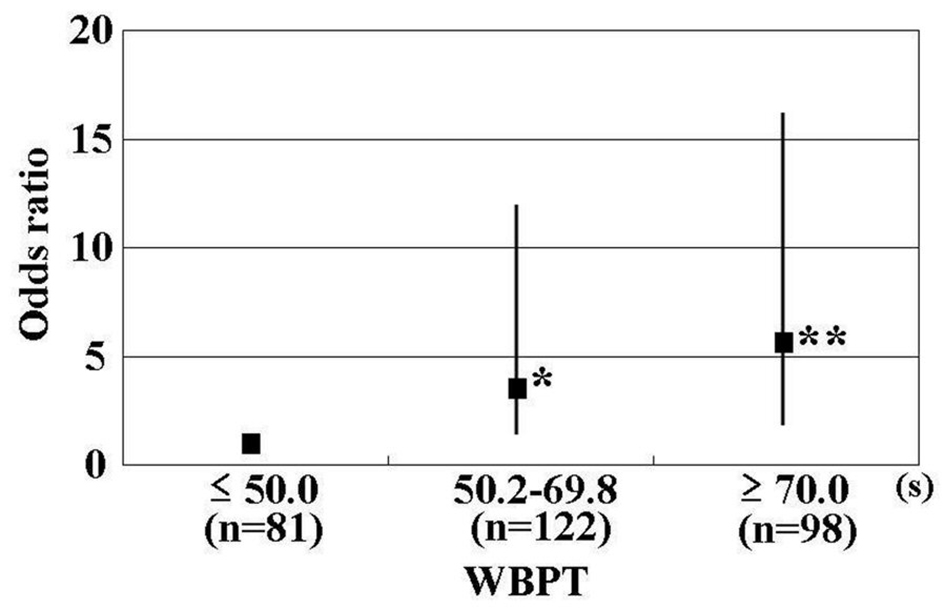 Figure 3. Results of multiple logistic regression analysis for high hs-cTnT. Patients with high (≥ 70 s; odds ratio, 5.3 (95% CI, 1.6 - 16.1); P < 0.01) and median (50.2 - 69.8 s; odds ratio, 3.8 (95% CI, 1.2 - 12.4); P < 0.05) WBPT had a significantly higher risk for high hs-cTnT levels (≥ 0.014 ng/mL) than those with low WBPT (≤ 50.0 s). Adjustment factors: CAVI, log-BNP, skin AF, d-ROMs test, age. *P < 0.05 vs. ≤ 50.0 s, **P < 0.01 vs. ≤ 50.0 s. CI: confidence interval; CAVI: cardio-ankle vascular index; BNP: brain natriuretic peptide; AF: autofluorescence; d-ROMs: derivatives of reactive oxygen metabolites.
Tables
Table 1. Patient Characteristics

Overall
hs-cTnT non-detection
hs-cTnT detection
P value
Data are expressed as mean ± standard deviation. hs-cTnT: high-sensitivity cardiac troponin T; BP: blood pressure; LDL: low-density lipoprotein; HDL: high-density lipoprotein; FBG: fasting blood glucose; IRI: immunoreactive insulin; HOMA-IR: homeostatic model assessment of insulin resistance; AF: autofluorescence; eGFR: estimated glomerular filtration rate; BNP: brain natriuretic peptide; d-ROMs: derivatives of reactive oxygen metabolites; CAVI: cardio-ankle vascular index; WBPT: whole blood passage time; DPP: dipeptidyl peptidase; RAS: renin-angiotensin system.
n (male/female)
301 (116/185)
40 (18/22)
261 (98/163)
0.369
Age (years)
65 ± 11
61 ± 10
66 ± 12
< 0.01
Body mass index (kg/m2)
23 ± 4
21 ± 3
24 ± 4
< 0.01
Current smoker, n (%)
70 (23)
6 (15)
64 (24)
0.206
Hypertension, n (%)
211 (70)
28 (70)
183 (70)
0.920
Systolic BP (mm Hg)
140 ± 20
136 ± 15
140 ± 20
0.053
Diastolic BP (mm Hg)
87 ± 13
84 ± 11
88 ± 13
0.059
Dyslipidemia (%)
178 (59)
23 (58)
155 (59)
0.874
Total cholesterol (mg/dL)
219 ± 41
216 ± 40
219 ± 41
0.433
LDL cholesterol (mg/dL)
140 ± 38
137 ± 37
140 ± 38
0.559
Triglyceride (mg/dL)
146 ± 70
142 ± 83
146 ± 69
0.485
HDL cholesterol (mg/dL)
50 ± 16
51 ± 15
50 ± 16
0.890
FBG (mg/dL)
133 ± 27
123 ± 28
134 ± 27
< 0.05
IRI (µg/mL)
7.8 ± 4.8
6.7 ± 4.9
8.0 ± 4.8
0.068
HOMA-IR
2.6 ± 1.0
2.1 ± 1.6
2.6 ± 1.6
0.052
Hemoglobin A1c (%)
7.1 ± 1.0
6.8 ± 0.9
7.1 ± 1.0
< 0.05
SkinAF (AU)
2.7 ± 0.6
2.0 ± 0.4
2.8 ± 0.7
< 0.001
White blood cell (/µL)
5,371 ± 1,587
4,965 ± 1,086
5,433 ± 1,643
0.082
Hematocrit (%)
42.6 ± 4.9
42.5 ± 5.2
42.6 ± 4.8
0.853
Platelet (104/µL)
23.1 ± 5.5
21.8 ± 6.9
23.3 ± 5.3
0.119
eGFR (mL/min/1.73 m2)
67 ± 20
73 ± 19
66 ± 21
< 0.05
Cornell voltage (mm)
15 ± 5
13 ± 4
15 ± 5
< 0.05
Log-BNP (pg/mL)
1.7 ± 0.4
1.4 ± 0.4
1.8 ± 0.3
< 0.001
d-ROMs test (U. Carr)
336 ± 108
259 ± 82
348 ± 107
< 0.001
CAVI
9.2 ± 1.5
8.6 ± 1.3
9.4 ± 1.5
< 0.001
WBPT (s)
63 ± 18
50 ± 13
64 ± 18
< 0.001
Log-hs-cTnT (ng/mL)
-1.9 ± 0.2
-
-1.9 ± 0.2
-
Medication
  Sulfonylurea, n (%)
217 (72)
29 (73)
188 (72)
0.951
  Metformin, n (%)
84 (28)
12 (29)
72 (28)
0.903
  DPP-4 inhibitor, n (%)
160 (53)
20 (50)
140 (54)
0.669
  Insulin, n (%)
18 (6)
3 (8)
15 (6)
0.887
  RAS inhibitor, n (%)
175 (58)
20 (50)
155 (59)
0.157
  Statin, n (%)
138 (46)
16 (40)
122 (47)
0.276
Table 2. Correlation Between Hs-cTnT, WBPT and Clinical Parameters in Hs-cTnT Detectable Patients

r
Log-hs-cTnT
WBPT
r expressed correlation coefficient. *P < 0.05, **P < 0.01, ***P < 0.001. hs-cTnT: high-sensitivity cardiac troponin T; BP: blood pressure; LDL: low-density lipoprotein; HDL: high-density lipoprotein; FBG: fasting blood glucose; IRI: immunoreactive insulin; HOMA-IR: homeostatic model assessment of insulin resistance; AF: autofluorescence; eGFR: estimated glomerular filtration rate; BNP: brain natriuretic peptide; d-ROMs: derivatives of reactive oxygen metabolites; CAVI: cardio-ankle vascular index; WBPT: whole blood passage time; DPP: dipeptidyl peptidase; RAS: renin-angiotensin system.
Sex (female = 0, male = 1)
0.04
0.06
Age
0.19**
0.03
Body mass index
0.14*
0.18**
Current smoker (no = 0, yes = 1)
0.07
0.20**
Hypertension (no = 0, yes = 1)
0.12*
0.13*
Systolic BP
0.08
0.10
Diastolic BP
0.06
0.08
Dyslipidemia (no = 0, yes = 1)
-0.03
-0.01
Total cholesterol
-0.04
0.08
LDL cholesterol
-0.05
0.07
Triglyceride
-0.03
0.21**
HDL cholesterol
-0.07
-0.09
FBG
0.07
0.11
IRI
0.05
0.07
HOMA-IR
0.06
0.10
Hemoglobin A1c
0.13*
0.13*
Skin AF
0.32***
0.36***
White blood cell
0.06
0.13*
Hematocrit
0.05
0.20**
Platelet
0.03
0.08
eGFR
-0.19**
-0.14*
Cornell voltage
0.22***
0.10
Log-BNP
0.35***
0.07
d-ROMs test
0.30***
0.40***
CAVI
0.41***
0.42***
Sulfonylurea (no = 0, yes = 1)
-0.05
-0.08
Metformin (no = 0, yes = 1)
-0.03
-0.03
DPP-4 inhibitor (no = 0, yes = 1)
-0.05
-0.06
Insulin (no = 0, yes = 1)
-0.05
-0.06
RAS inhibitor (no = 0, yes = 1)
-0.09
-0.07
Statin (no = 0, yes = 1)
-0.07
-0.09
Table 3. Multiple Regression Analysis

Explanatory factor
β
P value
(A) Subordinate factor is hs-cTnT R2 = 0.3. (B) Subordinate factor is WBPT R2 = 0.44. CAVI: cardio-ankle vascular index; WBPT: whole blood passage time; BNP: brain natriuretic peptide; AF: autofluorescence; d-ROMs: derivatives of reactive oxygen metabolite; eGFR: estimated glomerular filtration rate; hs-cTnT: high-sensitivity cardiac troponin T.
(A)
  CAVI
0.27
< 0.001
  WBPT
0.24
< 0.001
  Log-BNP
0.21
< 0.01
  Skin AF
0.20
< 0.01
  d-ROMs test
0.19
< 0.05
  Age
0.18
< 0.05
  Cornell voltage
0.09
0.104
  eGFR
-0.06
0.251
(B)
  Skin AF
0.36
< 0.001
  Log-hs-cTnT
0.29
< 0.001
  d-ROMs test
0.19
< 0.01
  CAVI
0.15
< 0.05
  Hematocrit
0.13
< 0.05
  Current smoker
0.12
< 0.05
  Triglyceride
0.04
0.387